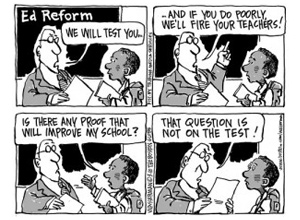 Gather 4 data points to prove my worth, my effectiveness....
Let's examine my possibilities:
-MEAP tests that students took last October, which tested them on content from the previous year
-GLAD tests which are supposedly aligned to grade level standards but even the program itself shows that 14 of the 44 questions on the 8th grade GLAD are actually testing high school standards
- pre & post tests in class
-EXPLORE test (kinda like a ACT for middle school kids) that predicts college and career readiness - wait.. Many of my kids won't even get a diploma from high school, and even if they manage to do that, are certainly not college bound. At least half of them have no intention of even getting a job some day. Their grand plan for life is to live off the system one way or the other.
-STAR reading -which in theory would be great but when kids score higher on this test, their AR point goals get raised, so why would anyone WANT to score higher on it?
-whatever else I can pull out of my hat
For students, none of these tests hold any level of accountability. If a student has parents who are grade motivated, the pre & post tests do hold some accountability on their parts, but otherwise, students don't understand or see correlation between their scores on these tests and ANYTHING in their real lives.
As students took the GLAD today, they finished 44 math questions - long, hard word problems - in less than 10 minutes. GOOD kids, kids who usually CARE. But kids who look at that computer screen and see too many words, too much work, and feel defeated before they even start. They know their score on the test won't keep them from going to high school. It won't mean repeating a grade. It won't mean summer school or remedial work to bring them up to speed. It just means they are done with one more test.
So here I sit.. trying to compile data to prove my worth as a teacher. Trying to figure out a way to make the dismal test scores look less bleak. Trying to find a way to make it look as if my kids have made progress. Trying to make THEM look good on paper so I look good on paper.
In reality, I KNOW that they have grown, and learned, and made progress. I KNOW without a doubt they are leaving with more skills than they came to me with. Some of those skills, in theory, should be able to be measured. But so many more of those skills could never be measured with a click and click and click test.
The skills that should be able to be measured? well.. I could make a million excuses why they won't meet their benchmarks - they are reading at a 2nd grade level in 8th grade... they don't know even their multiplication tables, much less how to balance an equation.... they don't want to do any work independently, preferring, insisting even, on being hand fed answer by answer, step by step... they have been beaten down for so many years they have lost any and all confidence in themselves so every step forward we slide 10 back.
But in the end, does any of it matter? No matter how well I teach, no matter how hard I work, no matter how many hours and how much of my heart I pour into them, all that matters in the end is some number on a piece of paper.
No one will know how far they've come - no one will see the girl who now volunteers to read aloud, even though she struggles with most of the words.
No one will see the boy who aces every math test in class, but is too overwhelmed and anxious to give that same effort when it really matters.
No one will see the girl who missed 50 days of school this year.
No one will see the girl who comes to school hungry most days.
No one will see the bruises hidden under his sleeves.
No one will see anything but a useless test score.